Traversing the tricky plains of Google Ads recommendations.
Your Google Ads campaigns are set up and you're ready to go. Over the next couple of days, your account is bombarded by recommendations from Google and your optimisation score is tanking. Apply all the recommendations and your account should be flourishing right? Let's discuss that.
Google Ads is a useful tool which, for those a little unfamiliar, can be daunting. Luckily, Google have got your back. Supported by years of machine learning, Google offers tailored recommendations to each account. These recommendations are there to support your account's goals.
What Are Google Ads Recommendations
As we discussed the recommendations posed by Google are what they believe will support and improve your account. This is from a Google's best practice perspective. They are split out into five distinct sections:
Repairs
Bidding & budgets
Keywords & Targeting
Ads & extensions
Automated Campaigns

Repairs
This flags up issues with your campaigns pertaining to any errors such as disproved ads or ad groups without any ads within them.
Bidding & Budgets
Recommendations surrounding bidding strategy and highlights campaigns which may be limited by budget
Keywords & Targeting
These recommendations revolve around traffic you may be missing due to conflicting keywords or small audience lists
Ads & Extensions
This focusses on ads performance and offers suggestions to improve you account by creating extensions and varying ad types.
Automated Campaigns
These are generally seen the least as we move to a more automated ads set up. these recommendations look at simplifying ads maintenance through automation.
On the face of it, the recommendations are there to help your account succeed and improve. Whether or not this is always the case is debatable.
A further aspect of the recommendations is how they feed into the optimisation score.
The Google Ads Optimisation Score
Every campaign on your Google Ads account has an optimisation score linked to it. Google has a succinct description of the optimisation score:
"Optimisation score is an estimate of how well your Google Ads account is set to perform. Scores run from 0–100%, with 100% meaning that your account can perform at its full potential" – Google

A few years ago, Google really increased the weight it places on its optimisation score, forcing advertisers to pay attention to it in order to remain a part of the Google Partnership Programme. For PPC specialists such as ourselves, maintaining our membership is rather important; if only to have a nice, shiny Google Ads sticker to show off on our site.
The reality is though, you can dismiss all the recommendations off-hand and achieve a 100% score. There is no need to complete the recommendations for it to have an effect to your score, a dismissed recommendation carries just as much weight as a completed one.
The ratio of completed to dismissed is denoted by the blue and grey bar, the latter colour being all the dismissed notifications.
In short, don't fret too much about the optimisation score, but do try to keep it as high as possible – even if only by dismissing the recommendations.
What To Do With Google Ads Recommendations
Blanket dismissing every recommendation isn't a particularly wise move. There are useful recommendations which are likely to have a positive impact on your Google Ads endeavours. Google's machine learning capabilities are good, but it's not without its faults. As Bruce Springsteen sang, your account requires "a little of that human touch".
There are certain recommendations which are more useful than others, for example the recommendation, "remove conflicting negative keywords" is a signifier that there is something wrong with your keywords – it may be that you remove the search keyword and not the negative keyword.
Here is a full list of all the Google recommendations.
Where the machine learning, which powers the Google Ads recommendations, falls down is in its failure to understand the niche of your business and begins to recommend suggestions which are unsuitable or even damaging to your end goals.
As alluded to above, recommendations can be easily dismissed and, at present, there is no penalty for doing so. Once you dismiss a recommendation, you are met with a pop-up asking why you dismissed it, again there is no requirement to fill this out.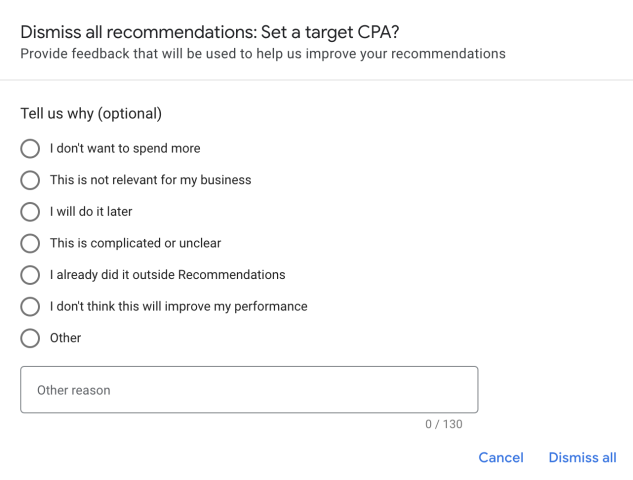 What is important in all aspects of digital marketing, not just PPC, is a thorough test and measure procedure. Every time an alteration is made to the account, any change should be checked after a week or two in order to monitor the outcome.
Should I Just Auto-Apply All My Suggestions
No. Despite what you might be told during a 'strategy call' to Google, we would certainly not recommend turning on auto-apply.
Although you can decide which suggestions are auto-applied you are completely handing over control to the machine learning, which is a useful tool but still requires a great deal of human intervention to ensure what is being recommended is appropriate.
With the auto-apply function, not only do you lose a handle on the test and measure, you completely cede control of aspects of your marketing to Google.
For those who may not be as well versed in PPC and using Google Ads, the temptation is to allow Google auto-apply every recommendation whilst you sit back and browse what speed boat you're going to buy with your new found revenue stream.
Not a good idea.
This gives Google complete control over your budget. This is a real drawback with the recommendations, the hefty budget increases. It's not uncommon for Google to recommend a budget increase of well over double the current spend.

The optimist would say that Google is recommending this as it believes it will have a positive impact on your return on ad spend (ROAS). Those of a more cynical viewpoint may suggest that Google is a huge company that is there to make money and so increases in budgets is in their best interest.
In Conclusion
Are Google recommendations harming your Google Ads campaigns. No, in the same way that autocorrect isn't harming your spelling. We always need to retain control, an experienced human led ads strategy will always beat a machine led one. For now at least…
The real strength comes when machine learning and human intuition combine, progresses in Google Ads machine learning has led to automated smart bidding strategies which means we are no longer pouring over reams of data and signifiers trying to establish a bidding strategy. Leave that to the machines who do it instantly, this allows us room to really optimise and fine tune the ads so they perform as best as they can.